I've been working for Moi Moi Fine Jewelry for about 6 weeks now! I have been working on their visual merchandising for their store, developed their mobile site design, created email banners for their client mailouts, web banners for their website and undertaking logo design to celebrate their 10 year anniversary!
The mobile site was a priority and very happy to undertake the mobile site design! Visit it live: http://www.moimoi.com.au/mobile/Default.aspx
Here are the designs:
Visual Merchandising involves creating lightbox posters for use in their online store and sending them to clickpress to print on fabric and also creating the large Christmas stain glass decal feature which is to be glass tint printed for their store window inside!
I also have to create online banners for their website, here is an example: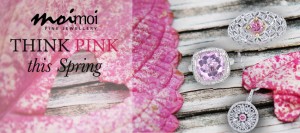 Email Banners are placed on the bottom of mailouts Moi Moi send to their clients during the purchase process of jewelry: